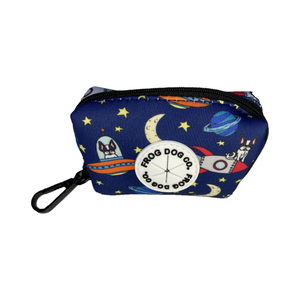 The FROG DOG CO. Poo Bag Holder - Zoomies.
Our furry friends are always on countdown to launch into their next episode of the Zoomies - wearing down a track in the garden, rocketing around after squirrels or going nuts with their pals. This inspired our cute Zoomies collection!  

FROG DOG CO. Poo Bag Holders are great to keep those all important poo bags handy, with plenty of room for keys or treats too. They have lots of useful features:
Cute original FROG DOG CO. design
Soft neoprene material
Clip to attach to your FROG DOG CO. Lead or keyring
Matching items available to complete the look
Cleaning guide:
Hand wash in cool water when required, then dry laying flat.
IMPORTANT: Please check your dog wear is safe to use before every use. No dog walking product is indestructible, and will deteriorate due to wear and tear over time. It is the owner's responsibility to ensure their pets and the general public are safe. Poo bags not suitable for children under 3 years. For use under adult supervision only.